Aluminum Structural Framing from John Henry Foster
Solving safety, material handling and ergonomic workspace challenges has been the hallmark of John Henry Foster's aluminum structural framing design & engineering capability for more than a decade. Utilizing Bosch Rexroth (metric) or TSlots (fractional) products to create highly customized and versatile aluminum framing structures, John Henry Foster can help reduce safety hazards, improve productivity, and move material through your plant more efficiently. Learn more about our multi-functional structures and applications below.
What is Bosch Rexroth Aluminum Framing?
Aluminum structural framing is a versatile product that provides endless design options for your applications. Bosch structural framing can be designed and assembled to create machine safety guards and barriers, workstations, racks, fixtures, and other material handling equipment. Simple frames and bases can be used to store and display product, inventory, and other materials.
Advantages of Aluminum Framing for Structural Design
Aluminum structural framing is lightweight, but very strong. It can be cut and assembled – and made adjustable, making it ideal for building more ergonomic and leaner workplace, improving productivity and safety.
Workstations and tables can be designed at custom heights, optimized for employee comfort. Aluminum structural framing requires no welding, and can be fastened in a variety of ways, allowing for all or part of a structure to be pre-assembled and delivered to your site.
Aluminum Framing Solutions
Machine Safety Guarding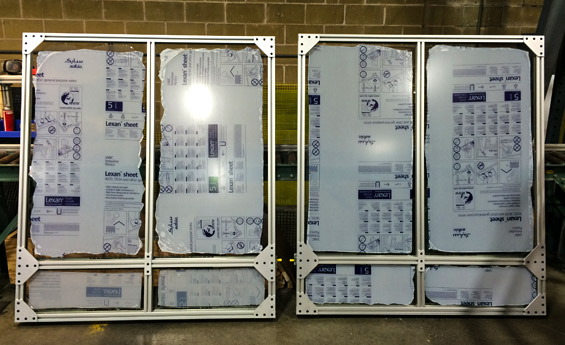 Safety of your employees is always a number one concern. Machine safety guarding can be designed, built, and installed by John Henry Foster in a matter of days with aluminum structural framing. The versatility of our metric or fractional solutions can be customized to guard even the most complex machinery and can be combined with a wide variety of light curtains, area scanners, locks, and other safety devices and accessories.
Machine Frames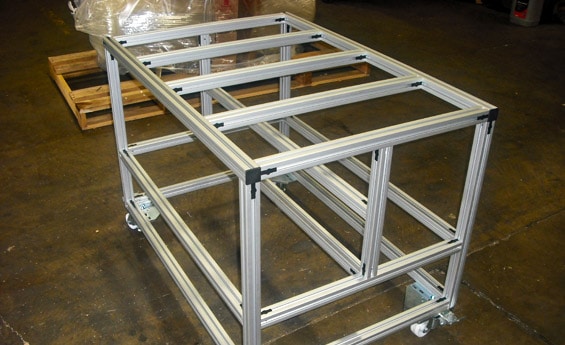 The strength and durability of Bosch Rexroth's aluminum framing solutions ensure your machine frame can stand up to the most rigorous 24×7 manufacturing environments. Custom design integrated wiring and cables, safety sensors, or other components – all easily modified or moved with a wide variety of bolt-together connectors.
Ergonomic Workstation Setup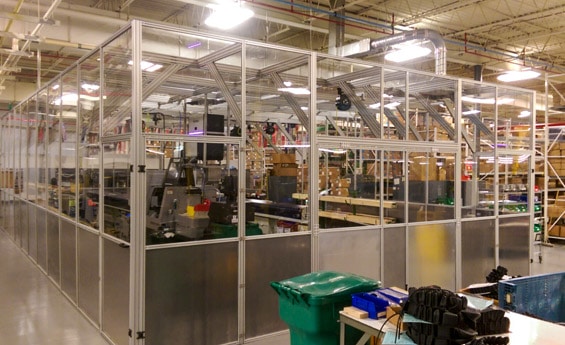 Custom designed and adjustable workstations, tables, carts, and shelves can be built by John Henry Foster at optimal heights to create a more comfortable working environment. This creates a lean, safe, and efficient environment, reducing physical stress on employees while saving time and energy for necessary tasks.
Display Frames
Displaying your product can be the key to getting the attention it deserves. Custom designed and completely modular aluminum framing allows you to create the aesthetically pleasing display you desire. Bosch's huge catalog of accessories, profiles and bolt-together connectors means you can build whatever you can imagine.
Material Handling Solutions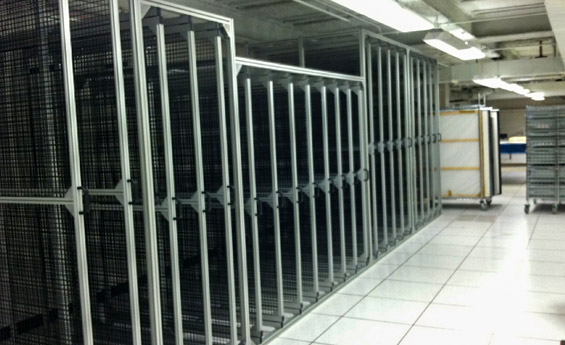 Moving material efficiently within your facility can greatly reduce errors, breakage, lost time, and stress on your resources. Aluminum structures can be specifically designed to handle virtually any load needed for your material, products, and inventory, maximizing productivity. Any structure can be integrated into existing conveyance systems or paired with Bosch Rexroth's TS conveyor products.
Protective Devices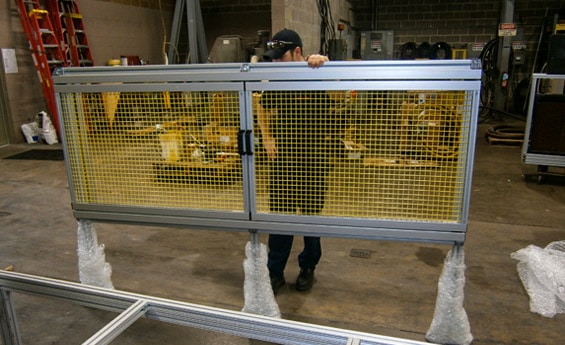 Today's business environments require protection for employees and customers alike. Versatile protective shields and barriers make doing business safe and comfortable. Custom designed and easy to modify, strong lightweight aluminum framing makes is easy to adapt your office or business to today's shifting needs.
Why Choose Bosch Rexroth Aluminum Structural Framing?
You can easily solve the most varied tasks using Bosch Rexroth aluminum structural framing, the largest modular profile system worldwide. Over 100 different aluminum profiles, like slotted aluminum, and dozens of bolt-together connectors are available for virtually any load or application. With our wide selection of accessories, almost any structure can be quickly assembled without special tools or skills.
The JHF and Bosch Advantage
The combination of John Henry Foster's decades of experience, in-house machining capabilities, a complete local inventory and the highest quality and variety of Bosch Rexroth aluminum structural framing and accessories means we will find a solution for any problem. The challenges of today's environments require a customizable, adaptable, durable, and maintenance free solution, which you can be assured of from John Henry Foster, whether in a kit or fully assembled.
Partner with an Industry Leader
Your solution will be designed by experienced experts in aluminum structural framing using the latest CAD tools. You can choose to have your solution fully assembled, delivered, and installed, or purchase in kit form to complete the build at your site. We stock a complete inventory in our local warehouse, and you will always get 24/7 support for parts and common components.
Contact the JHF team today to get started and discuss your application in further detail. Talk with our aluminum framing product experts today.