Custom Assemblies
From the design and manufacture of each individual component to the full assembly, you get a plug-and-play tested device that you know will function as intended.  Our expertise in a variety of technologies consolidates your supply chain and results in streamlined shipping, accounting and auditing functions for our clients.
Lower Overhead
Reduce Inventory
Streamline Operations
Advantages of custom assemblies:
Plug-And-Play Technology - Out of the box and on to the machine in no time at all, with a minimum of required connections.
Technical Expertise - We know our products well, and can fit the best product to your application. We can help eliminate guessing on sizes and material compatibility.
Less Hassle - One part number is all that is needed. No more keeping track of a dozen different items to purchase and assemble.
OEM Applications - We can cut your production time and your labor costs by pre-assembling components, making them immediately ready for the production line.
Maintenance/Repair Applications - We can help reduce down-time for maintenance. For example, if a valve and several fittings are usually replaced simultaneously, we can pre-install the fittings for faster repairs.
Our Work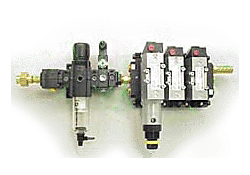 Filter/Regulator/Valve Stack Combination
Pneumatic assembly consisting of an OSHA approved lock out valve, a filter-regulator, pressure switch, and a three-valve stack. The valves are two-position single solenoid, 24 VDC valves. The left most valve has its own dedicated pressure regulator. Not pictured are power cords with indicator lights for each valve.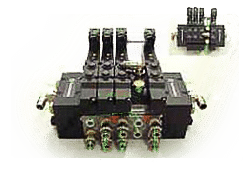 Valve Stack with Isolation Plates
Pneumatic valve stack consisting of four 4-way valves, two isolation plates, and an intermediate supply / exhaust station. Isolators allow three different pressure sources in same manifold. Valves 1 and 2 operate on one pressure source. Valves 3 and 4 have their own dedicated pressure source. This simplifies plumbing and electrical connections creating one valve station, rather than three. Push-to connect fittings for quick air line hook-up.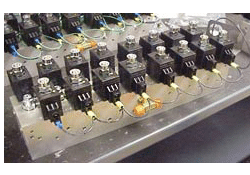 Hydraulic Cartridge Valve Manifold
An aluminum hydraulic manifold for cylinder control with 16 solenoid valves, and 16 counterbalance (load holding) valves. Fittings are installed on the opposite side, and wiring of the solenoids is completed at John Henry Foster prior to shipping. Once at the customer's facility, hydraulic lines are installed, and two plug-in electrical connections are made, and the unit is ready for service.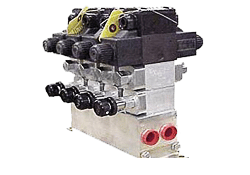 Hydraulic Motor Speed Control Manifold
Hydraulic package consisting of a directional valve, flow control, check valves for all four stations, and a four station manifold. Designed to operate a motor circuit, each station has its own adjustable needle valve for low speed operation, and dual check valves to prevent oil back flow. The directional valves select slow speed by directing oil through the needle valve. High speed is attained when the directional valve bypasses the needle valve. Four hydraulic motors are controlled from this single, compact assembly.
Industries We Serve
Turnkey Hydraulic, Pneumatic and Electrical Controls
Automotive
Paper and Pulp
Custom Integrated-PLC-Based, Control and Data Acquisition Systems
Appliance
Lumber and Wood Processing
Compliance with Your Specifications
Food and Beverage
Plant Automation
Custom Designed Control Panels
Animal Feed Processing
Materials Recycling
Project Management
Water and Wastewater Treatment
Materials Handling
Creative Engineered Solutions
Automated Welding
Discrete Part Assembly
Custom Software Development
Blending Rubber and Plastics
Stone Glass
Custom System Diagnostics
Customized Testing